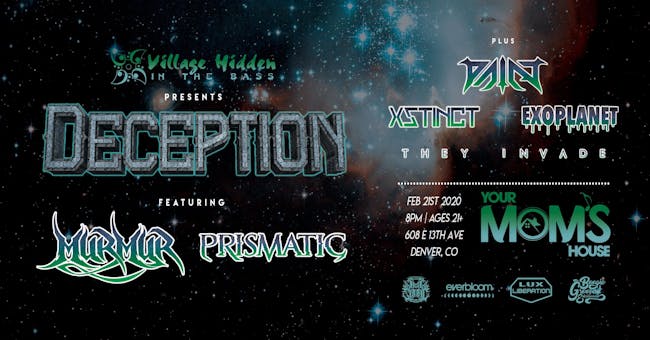 Presented By Boogie Groove Entertainment & The Village Hidden in the Bass
MurMur
Prismatic
Xstinct, They Invade, PAIN, EXOPLANET
$5.00 - $20.00
Sales Ended
Deception ft. Prismatic & MurMur
Deception ft. Prismatic & MurMur
Prismatic
soundcloud.com/prismatictunes
Stepping onto the electronic music scene in 2013 with his debut ep "Ab Initio", Prismatic has been making waves ever since with his hair raising sound design and pristine production quality. His music takes us on a journey through the spectrum of bass music as beautiful pads and melodies prepare the listener for unforgettable drops.
Xstinct
soundcloud.com/xstinctbass
Xstinct is a Multi-Genre Producer from Denver, Colorado. With a never ceasing passion for music, he draws inspiration from his early love for hip hop and current love for electronic music. His constant desire to showcase his craft to higher and higher levels of artistic excellence has lead to the opportunity to work with some his biggest influences such as Born I Music, M.I.M.E, and Lox Chatterbox.
They Invade
soundcloud.com/they-invade
Thadeus Deal is a Colorado based dj/producer looking to deliver a mind bending sonic experience at any and every opportunity. Splitting himself into two different projects; TBlue for his lofi and experimental ideas and They Invade for everything bass, you can expect a wide variety of genres.
PAIN
soundcloud.com/find_pain
Thomas Ricciardi, Alternatively known as "PAIN", is an electronic music artist reigning from Philadelphia, Pennsylvania. He began his bass music journey under the name FROSTI, making tutorials and preset packs for his fans and followers.
EXOPLANET
soundcloud.com/exoplanetdubstep
EXOPLANET is based out of Tampa FL and has only been around for a little over ONE year. But in that one year EXOPLANET has landed performances at some of the HIGHEST quality venues in Florida and has recently started his FIRST NATIONAL TOUR.
Tickets
Tiers: $10 | $15 | $20
Dos: $10 until 9pm | $20 after 9pm
Doors 7pm | Show 8pm
Happy Hour >> 4pm-7pm >> 1/2 Off All Drinks
(Includes Top Shelf)
21+
Infinity Mirror Stage By Lux Liberation
February 21st, 2020
Your Mom's House
608 E 13th Ave
Denver, CO 80203
Presented By Village Hidden in the Bass & Boogie Groove Entertainment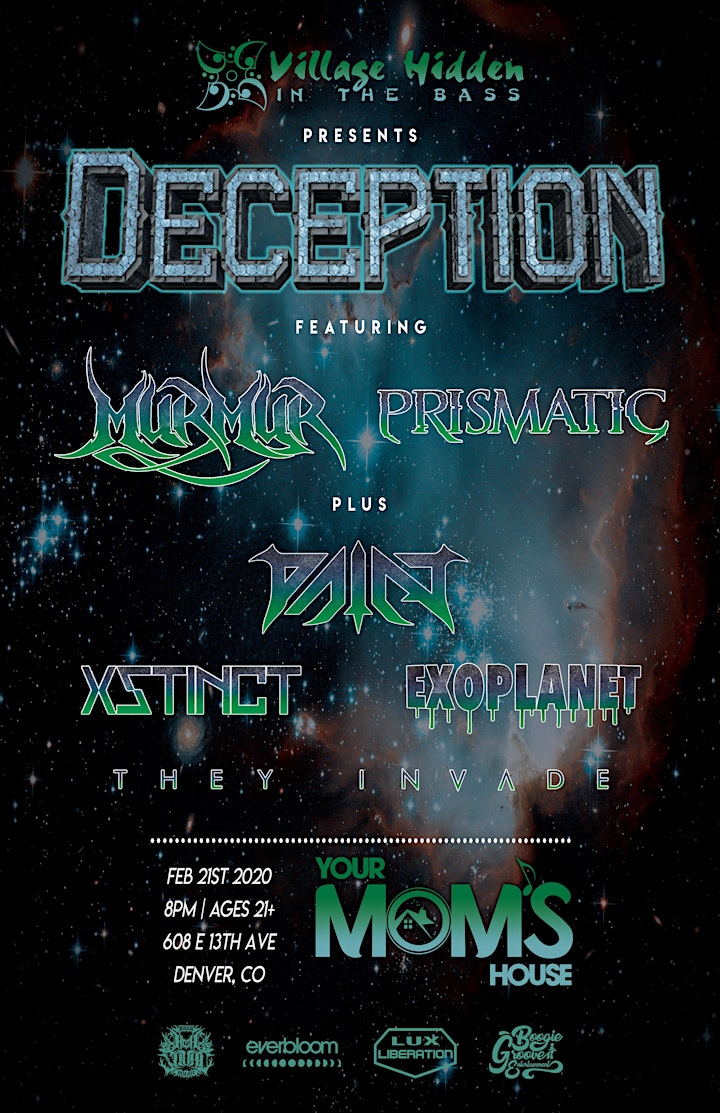 Venue Information:
Your Mom's House
608 E 13th Ave.
Denver, CO, 80203