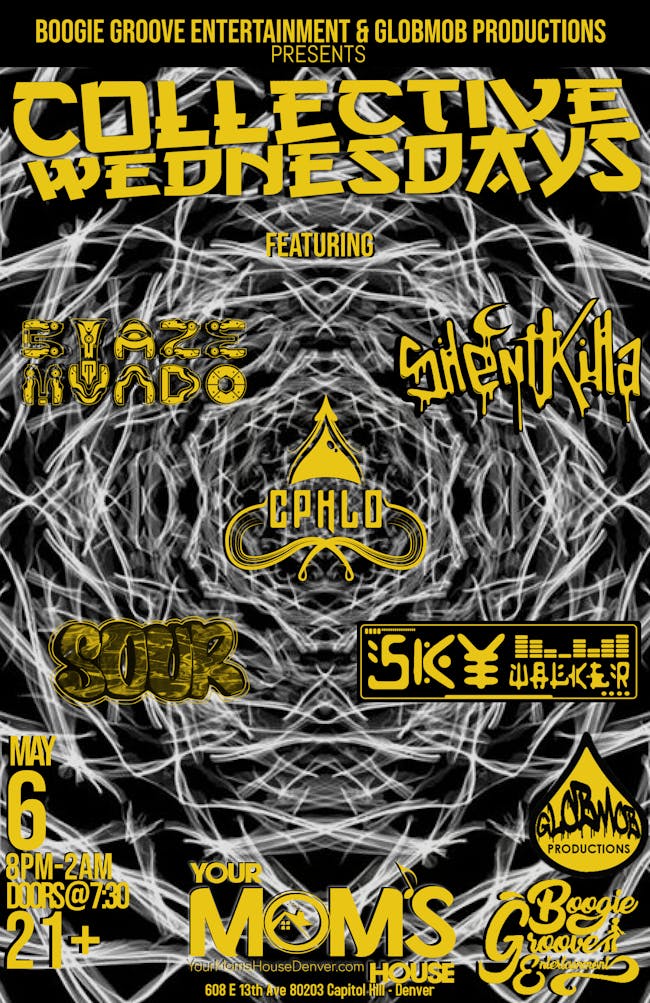 Boogie Groove Entertainment Presents
SKYwalker
silentKilla, SOUR, Blaze Mundo, Cphlo
Collective Wednesdays: GlobMob Productions Takeover
Collective Wednesdays: GlobMob Productions Takeover
SKYwalker
https://soundcloud.com/skywalkerbass
SKYwalker aka Lucas Bondy is an extraterrestrial bass alien currently residing in Rochester, New York. Specializing in a genre he calls "alien trap" means you can expect to hear anything from experimental bass to deep dub or even dnb, all with a lot of trap/hip-hop mashups and sampling. His unique mixing style and captivating stage presence has landed him on the stage with acts such as EOTO, Yheti, KLO, Toadface, DMVU, Esseks, Laika Beats, and Smith.
silentKilla
https://soundcloud.com/silentkilla710
Descending from Upstate, NY, silentKilla (Alex Knapp) has been spreading the good word of deep & dark frequencies across the east coast for a few years now. Aside from this DJ project, he and GlobMob affiliate Sour form Flight 710; a project that features production of deep frequencies with a dungeon dub tweak. While opening for artists such as Mikrodot, Six Chakra, Smokestax, Angelic Root, Prophet, Salty & Chad Dubz, he has had an ability to take crowds into the unknown with sound and vibrations.
SOUR
https://soundcloud.com/sour-productions
Sour (Joseph Nauert) is an experimental DJ from the sticks of Gainesville NY. Sour's first dive into the infinite universe of music began in his teenage years with a fender guitar. The sonic character of Sour comes from a variety of genres coming from a background of punk and metal as well as a growing love for deep and dark experimental electronic music.
Blaze Mundo
https://soundcloud.com/blazemundo
Blaze Mundo aka Jo-el Burr is a Producer/DJ currently residing in Alfred, NY that's been developing his sound for over a decade. His original sets include a wide range of bass styles and tempos with a creature like sound design that morphs between dry/neuro style bass sounds and wet/squelchy ones.
Cphlo
https://soundcloud.com/cphlo
Nationally recognized and an underdog looking to make a mark in the industry. CPHLO (Christopher Rinyu-Tonge) a producer, DJ, and performer, CPHLO found his love for music at the age of 10 in his hometown of Buffalo, New York. With an arsenal of unreleased music of his own as well as others, CPHLO is confident in his ability to allure his audience with music that they didn't know they wanted to hear.
Doors: 7pm // Show: 8pm
$5 Presale // $10 DOS
21+
Happy Hour >> 4PM-8PM >> ½ Off All Drinks (includes Top Shelf)
Presented by Boogie Groove Entertainment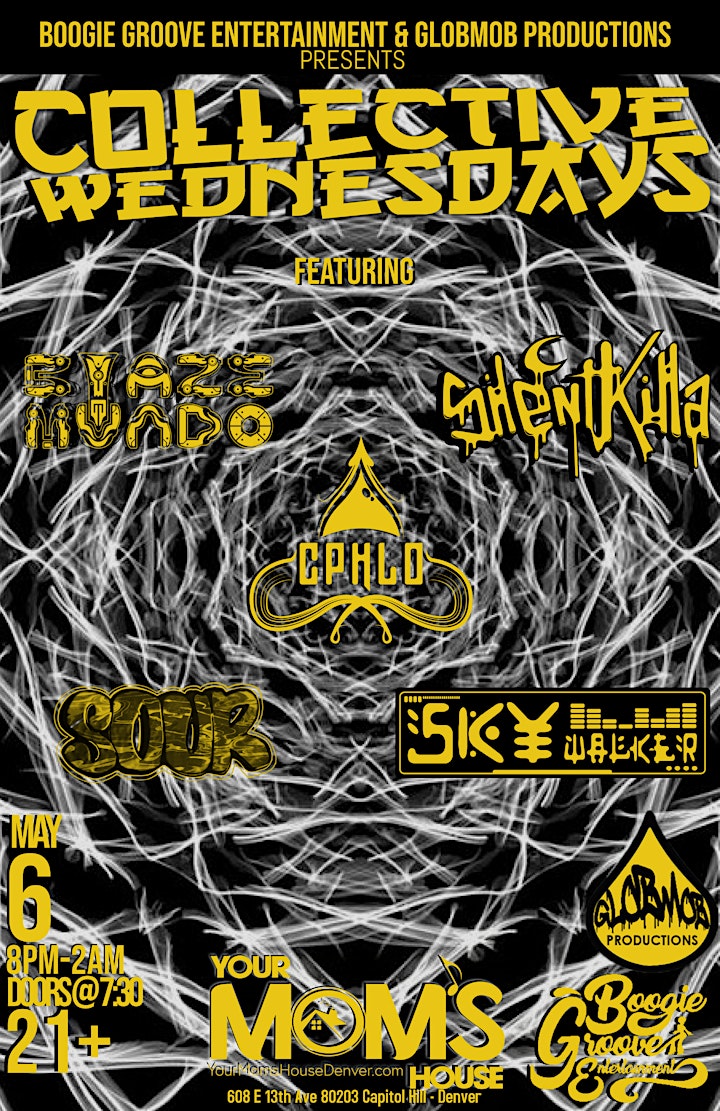 Venue Information:
Your Mom's House
608 E 13th Ave.
Denver, CO, 80203